South Carolina Association of Municipal Power Systems
"Twenty of the state's 21 municipal electric utilities belong to the South Carolina Association of Municipal Power Systems. Originally, SCAMPS existed solely to help one another during times of disaster. Although mutual aid is still the backbone of SCAMPS, it has expanded its scope to include legislative initiatives, public relations programs and training for electrical personnel." A quote from MASC Website.
To learn more about SCAMPS visit South Carolina Association of Municipal Power Systems.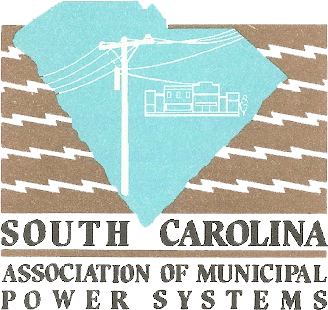 SCAMPS began as a group of fourteen cities, in the piedmont region of South Carolina, that felt the need to stand together to fight large increases in wholesale electric power being imposed across the region. They were officially instituted in February of 1972 under the name Piedmont Municipal Power Systems (PMPS). The group's objectives were defined in April of 1972 and consisted of the following:
Assisting Electricities of North Carolina in contesting wholesale electric rate increases (270% increases from 1970-1975)
Supporting the Richard B. Russell Project (The damming of Lake Russell for hydropower)
Discussion of areas of mutual interest
Mutual Aid (Assisting one another through natural disasters)
The original fourteen members of PMPS were: Abbeville, Clinton, Due West, Easley, Gaffney, Greenwood, Greer, Laurens, Newberry, Prosperity, Rock Hil, Seneca, Union, and Westminster.
In November of 1976, PMPS decided to become a state-wide organization, thereby increasing its reach and influence. Four members from the lower part of the state were added (Bennetsville, Camden, McCormick and Orangeburg) and the group was renamed SCAMPS. Eventualy, SCAMPS grew to include all 21 municipal power systems in the state; however, only twenty municipal electric utilities are members today.
PMPA was formed in 1979, and its Members, remembering their roots, derived its name from the original PMPS organization.